Before the rain of this weekend settled over us, I was able to share one of my favorite spring activities with Will: planting flowers. Someday I will be an excellent gardener, but for now, since I'm hardly Martha Stewart, I stick with the easy plants. Will and I picked out some purple petunias and got to work.

It was a family affair as Ellie insisted on being included; staying inside was just not an option, so I tied her to our lamp post. When the neighbor's 5 year old came over to say hello, I thought she could've died and gone to doggy heaven. Made her day.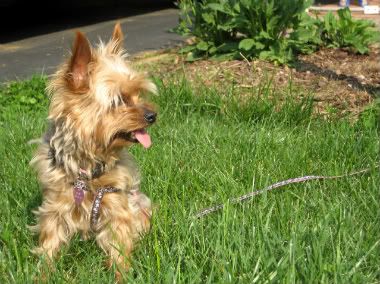 When all was sufficiently planted and the mulch spread, Will was required to participate in his mandatory photo op. At one point he showed such interest, he leaned forward and pulled two of the freshly planted flowers out with a simple motion of his arm. He was covered in dirt so, needless to say, our gardening session ended with tubby time for Will.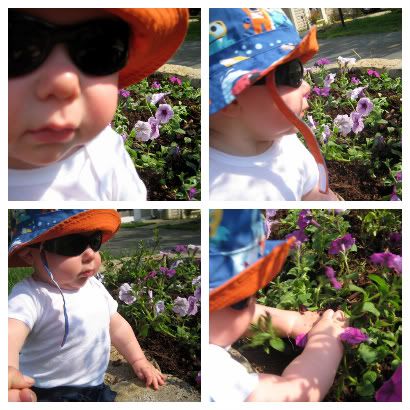 On Saturday, Will and I braved the dark clouds and their threats of rain to have a lunch date with friends.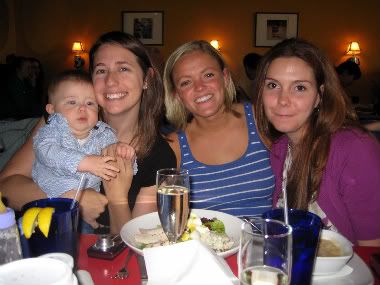 As a new mommy, I must say, one of my favorite things is seeing others love on my son and enjoy him nearly as much as I do. The ladies were loving him.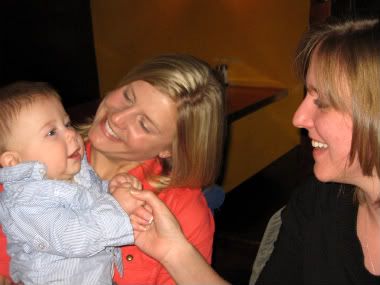 And I'm pretty sure, Will was loving the ladies right back.
No offense to Will, but meeting the girls for lunch is a much harder feat with a baby in tow. Our conversations tend to flow at an exhausting pace, jumping from subject to subject as we attempt to fit in all the required gossip as well as the 'what's new with your life' essentials. I couldn't even begin to focus on it all. Wait - what? Oh, pleated skirt on Facebook, you say? Even though we're all busy doing different things with our adult lives, I have an awesomely amazing time whenever we get together.
After just a couple of hours, Will told me in no uncertain terms it was time to go. He was sleepy, and our outing was forced to come to an abrupt end. While two hours may seem sufficiently long enough, much to the dismay of various servers anxious to turn over our table, it's not. Two hours in, and we're just getting started. It's no fun being the first to leave the party, and I suspect that Will is going to sit our next lunch date out.
No worries, though. I'll leave him with his daddy. And, not to change the subject, but have I mentioned just how much Will loves his daddy? Well, he does. Lots.

And so do I.