It was a celebratory kind of weekend. The kind that has you excited for each day to come until, sadly, we go to bed Sunday night knowing the next morning will find us bidding Daddy adieu.
The first item up on our list of things to celebrate was our *amazing* summer-like weather. Summer has always been our favorite season and, really, the hotter the better. We love, love, love being outside, soaking up all the heat and humidity Mother Nature can muster. This weekend, was no exception.
Saturday found us at Grandma's to celebrate her birthday.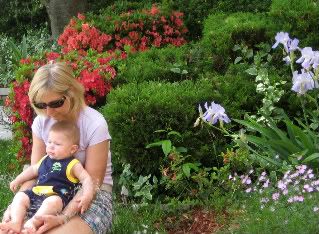 Will sat in a restaurant high chair and, for the first time, he lasted the entire meal. Sophie the giraffe and little pieces of Gerber treats helped to keep him entertained.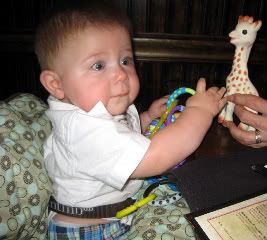 After dinner, it was off to the bookstore. I've been meaning to buy Will this little gem since Christmas time.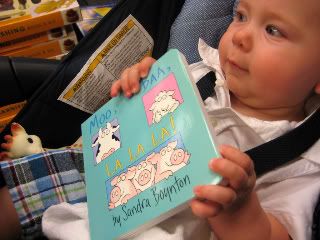 Sunday was tremendously exciting, as it found us at Best Buy buying a
NEW CAMERA
!!!! A day later, and I'm still celebrating. Since I've been in the process of developing pictures from the early days of Will, I find myself feeling sort of sad. Looking back over them now, the pictures are just so....well...bad. Bad angles, bad lighting, just BAD. I wish I would've gotten into this whole photography thing much sooner. On the way home, Mike was busy giving me the speech on the importance of taking good care of our new camera: "Make sure your hands are clean when you use it." Ha!
Thank goodness for pets and flowers because Mike and I were anxious to try out our new toy while the little prince was sleeping.
I set up the baby pool in the backyard, all ready for those first Will pictures with the new camera. I imagined him smiling and splashing. It didn't *quite* work out that way, but he sure had fun tasting some of Daddy's water.
Will has been a spitting machine over the past few days, blowing raspberries all over us. He wouldn't perform in the name of art, but did offer us some cute things in the form of shy smiles and goofy faces.
I'll end this post with some pictures; not because they have a story, but simply because we like them.