Inspired by Will's late afternoon nap, the warm weather, and the fact that I'm milking this first Mother's Day thing for all it's worth, tonight we did something we rarely do. We went out for dinner as a family of three.
And I did something I rarely do. After 7 months of motherhood, I felt I'd earned it. I ordered a frozen margarita. It was raspberry. It was delicious.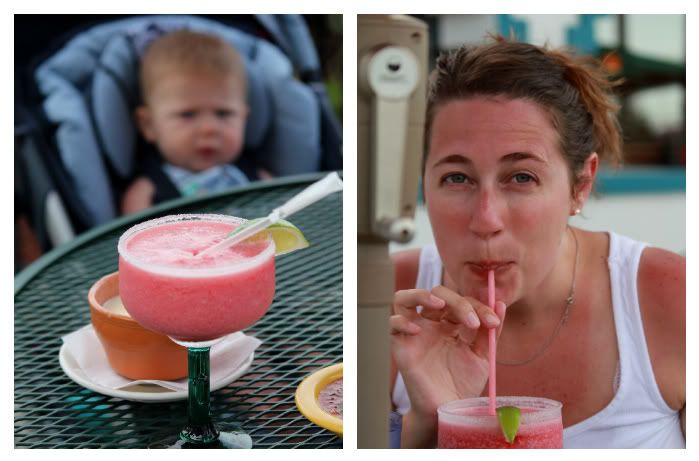 The sunburn I'm rocking? It's from my first jog in the park with my new stroller and my little man. Mike said,
"You're a grown up now. It's time to remember the sunblock."
Yes, sir.
Will was a perfectly behaved little boy at the restaurant. As long as we were breaking off little pieces of goodness and shoving them into his waiting mouth.
So as has become our habit, both because we're new parents AND because we're the proud owners of an awesomely awesome new camera, there were lots of pictures. Along with what I like to think of as baby kisses (even if they are more of the let-me-lean-forward-and-slobber-on-your-face variety).
We love our baby every day. And we especially love him when he lets us enjoy a good meal - and a good margarita - at a good restaurant.