On Saturday night, the too-often repeated question was asked:
What do we want to do tomorrow?
And the too-often repeated answer was given:
I don't know
. Until Mike said,
"How about Fredericksburg?"
And it was decided. Fredericksburg on Sunday.
We left without a plan, but on the way, decided a picnic in the park was the BEST idea. So that's exactly what we did.
This little love machine was heart-melting, giving lots of hugs and kisses. So happy, as long as lunch was shared with him.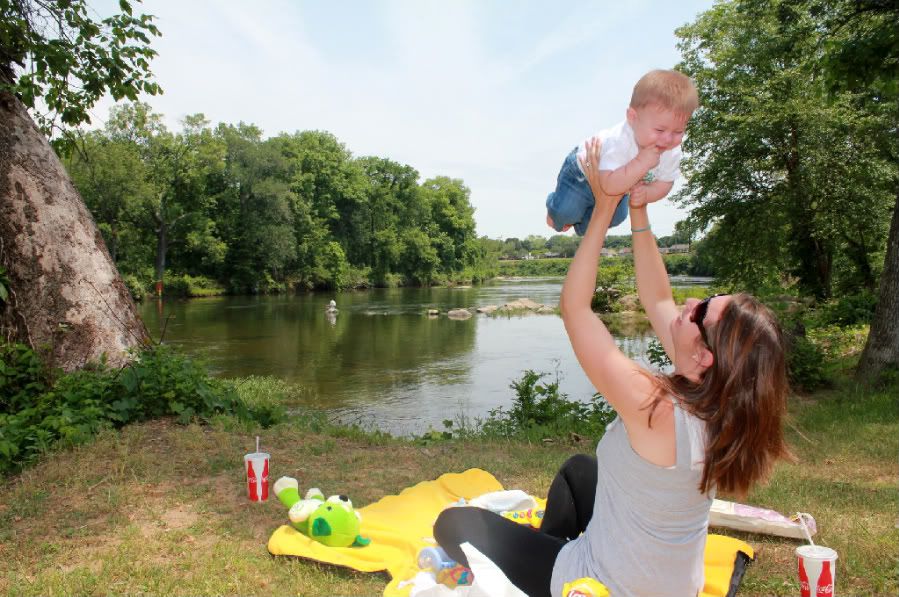 Lunch on The Rappahannock. A river that Mike and I tubed down back in the day.
This little goose climbed out of the water and headed right towards us. Only, he kept coming. Right at us. In a threatening kind of way. Mike had to chase him back with a stick. The irony that we would go from taking pictures of this majestic creature, to nearly beating him senseless seconds later, was not lost on me. Poor Goosey.
And after lunch, there was a walk. And when a 19 pounder is strapped to your frontside and you happen upon a nice seat, there's of course, a sit.

Photography credit for the day goes to Mike, who's enjoying my "Mother's Day gift" as much as me. Naturally, he couldn't let the day pass without taking pictures of his weekend project: a freshly painted front door. Looks marvelous, Dear.
It's on a rainy Monday morning that I'm recalling our special Sunday. It was a fabulous day. Lucky for us, there's much more fabulous to come.