What are we doing now that it's warm? Lots of strolling. After his nap, Will, along with Ellie, gets loaded into the backseat for a drive to the neighborhood up the street. It's an idyllic little tree-lined spot with sidewalks that are seamed together, making for a very pleasant stroller experience. Our own neighborhood has sidewalks that are very choppy, causing us to make multiple crosses of the street when one comes to an abrupt end. Besides that, it's nice to have a simple change of scenery. I like to tell Will that someday we will live in this idyllic tree-lined neighborhood; once we can finally sell this pesky townhouse of ours (*Hint, hint, housing market* Now would be a fabulous time to rebound).
So back to the subject at hand - our stroller rides... Despite the face, Will really enjoys his walks.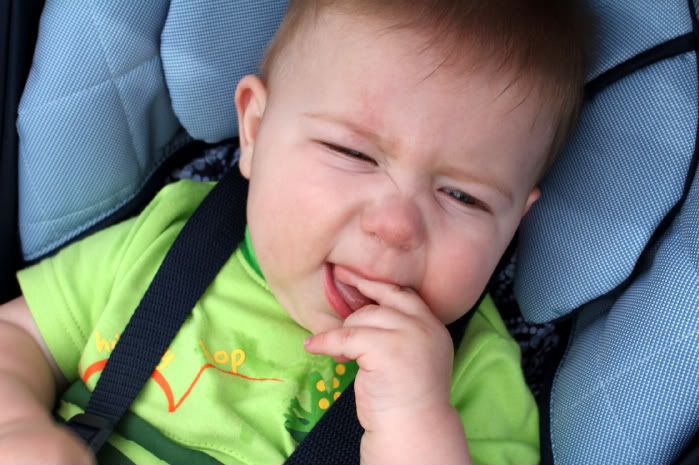 After walking the eqivalent of a doggy marathon, Ellie is always in need of a drink. Really, the only fair thing to do is share mine.
Speaking of faces, Will has always been known for his expressions. Even the NICU nurses would comment on this and have a laugh at our newborn's expense. Through my near-constant picture taking, it's easy to take notice of the many expressions Will wears throughout the day.
What else are we doing now that it's warm? Sleeping through the night, but having a difficult time falling asleep. Will has been tired and acting ready for bed closer to 6:30/7. We read and have a rock and a bottle and Will goes down quite nicely. Only, he's been getting up again 30-45 minutes later and requiring more food or more cuddles. It's been taking about 4 or 5 additional tries to finally get him to sleep. Sure it's exhausting, but the exciting part is that once he's finally down, he's been staying down until morning.
Hoping to avoid what's quickly becoming our up and down the stairs evening routine, after his 30 minute "nap," Mike tried bringing Will downstairs for more playtime, thinking it might tire him out for good. It was slightly successful.
Warm weather means more outings; meaning Will is forced to do battle with the carseat on a regular basis. Or, rather, he battles me as I attempt to put him in it. Sometimes he likes it, and sometimes he doesn't, and this changing of his mind can occur in lightning fast speed. Case in point: the following pictures were taken in a span of 10 seconds.
Will is constantly evolving; something that certainly keeps me on my toes. I get used to the idea of something, I think I have something figured out, or I analyze him to family, friends, and the blog world - and that's when he decides it's time to change things up. Maybe I'll never know anything for sure. Except that I love Will. And I love his dad. And warm weather is pretty awesome. Those things I know. For. Sure.