I went to the Bahamas!
Yeah, I went to the Bahamas. In my dreams. Because these pictures are so three years ago. But it sounds better than saying I was waiting on a new power cord to arrive in the mail. Which is what I was really doing.
Well, not ALL I was doing. Because when I'm not blogging (or dreaming of the glamourous vacations I used to take), I'm usually living life. And it all centers around this little dream machine.
Who's all about these oh-so-adorable smiles that begin with the crinkle of his nose.
Housewife Wednesday happened again.
Appetizers: Cheese Straws (made by hand, although I don't think I twisted them quite correctly)
Dinner: Chicken and Noodle stir fry (NOT frozen or already prepared!)
Dessert: Chocolate Mousse (from scratch, of course)
Dinner by candlelight.
And when I make the effort to dress up, you better believe there will be pictures. So when Will didn't feel like taking them with me, I grabbed the first furry child I could find.
Mornings are heavenly. Will's still clad in cute jammies. His bed head is perfection. And he's so happy.
Cute little nose-crinkle smile.
Love of my life: makes funny faces and gets breakfast stuck in his hair.
Lately, one of my favorite places to take Will is the library. Last week there was a summer carnival; which just so happened to be on the same day our books were due.
So we picked out some new books.
And had a snack.
We played with bubbles. And when it was time to share the wand, Will was none too pleased.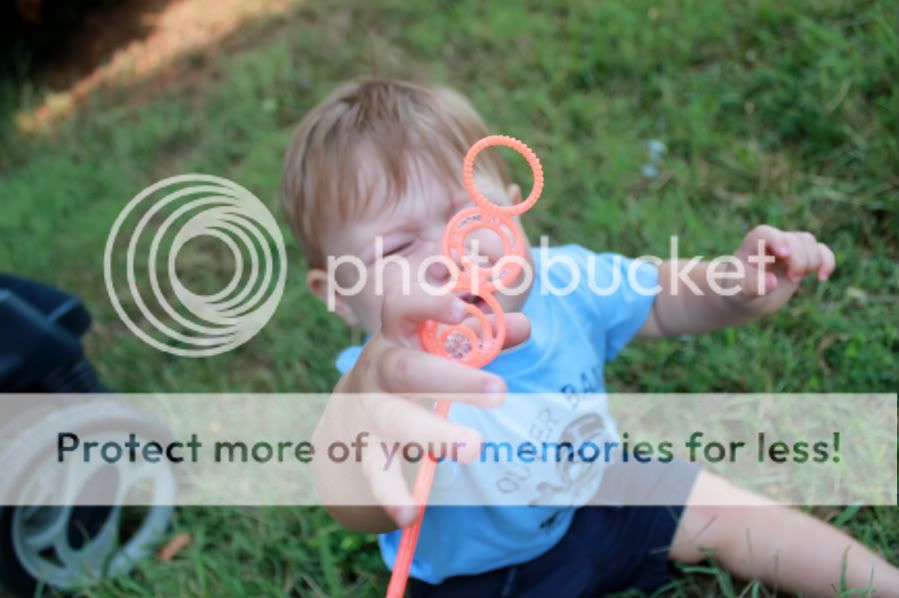 Will got to sit in a firetruck for the first time. And just as Will was about to ask the cute fireman for his number on behalf of his cute, single aunt, the firetruck got a call and had to leave.
Cheeeeeeeeeeeeeeeeeese.
Lesson of the week: If you take even a minute to check your email, you can expect to turn around to this.
Will is my helper boy. Yesterday we washed the car. He rolled around the driveway in his walker and begged to hold the hose.
Then I thought it would be fun to let him walk around the neighborhood.
But, it wasn't really fun. I had to hurry to keep up so he wouldn't roll off the curb. Then there were times I had to pull him and push him. Thankfully we took a break to chat with our favorite neighbors.
Neighbors who graciously volunteered to carry the walker home.
We have a baby. Fabulous vacations and dinners at fancy restaurants have officially been put on hold. And that's OK. It may not be Paradise Island, but it's pretty close to paradise.