Because this little monkey was up 3 times last night. 10:30. 1:00. 5:00. Can you imagine?
OK, Students, go ahead and color a picture of how you spent your summer break while Mrs. Harmsen lays her head down on this desk. Just....for....a....minute...zzzzzzzz.
His shirt says 'Jaw-some.' But waking up that often when you're 2.5 weeks away from your first birthday? SO not jaw-some.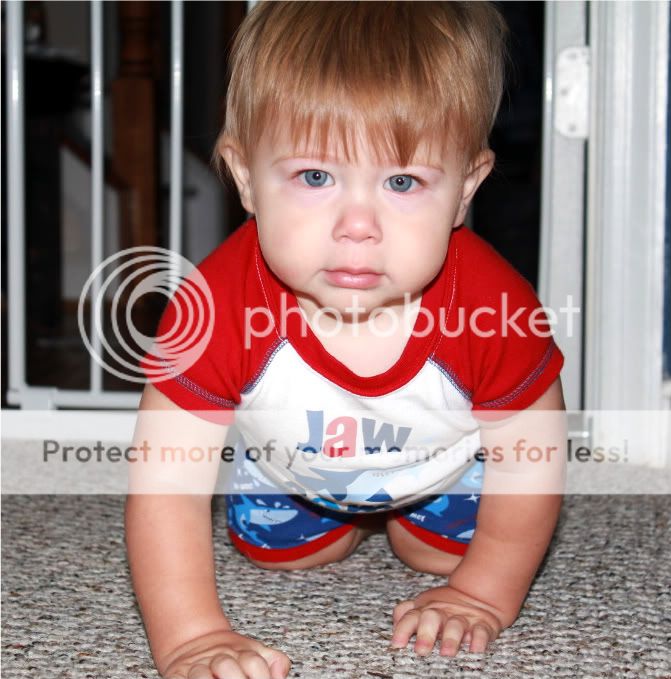 And just incase you're wondering.... Reasons 1-8,941 are all the same: spending every day with this little love.
Our 3 day weekend was fabulous. There were no vacation plans. Rather, we enjoyed home. We threw open windows and LOVED the hell out of our gorgeous weather.
And spent as much time outside as we could manage.
Check this out... I planted a hydrangea in honor of Will's first summer. I wanted it to be blue, but it was more purpleish. I added some aluminum sulfate a few weeks ago and LOOK -----
Starting to turn blue! You see it. Don't you?
A good weekend has several components:
Mike's chocolate chip pancakes.
A baby who NAPS (and looks oh-so-cute while doing so).
Although, naptime also includes some good ol' fashioned crib chewing. Yum.
Yep. This was baby-proofed.
Family.
Yeah, it was a good weekend.
Will has a new game. It's called 'I-refuse-to-sit-in-my-carseat-instead-I'll-stand-here-until-you-give-me-a-toy-I-like-then-maybe-I'll-sit.' It's tons of fun, as you can imagine.
Will has also started waving 'hi' and 'bye bye.' It's rather unpredictable, but once he gets going, there's no stopping him. Today he waved at Edwin on the Maury Povich show. He also waved at the 4 kids there for paternity tests. All Edwin's, incase you were wondering. Yes, I know the time is quickly coming when I'll have to stop watching trash TV around him.
And while I'm confessing bad habits:
Hi, my name is Carrie and I'm picture-framing addicted. I. Can't. Stop.