My laptop has been misbehaving in recent days, and while, ordinarily, this is a very annoying situation to deal with, I've welcomed the extra time... The time I needed to reflect on the events of last week... Get my pictures together and, more importantly, find the right words to tell this story because it is both odd and awesome. Mostly awesome.
Last week, Will and I flew to Kansas.
Because the flight wasn't sold out, I was able to bring his carseat on board. I purchased a travel bag that both protects the seat and allows one to wear it as a backpack. I felt rather tortoise-like, but when I pictured Will sleeping peacefully in his carseat for the duration of our 2 hour, 10 minute flight, I decided the extra effort of lugging it through the airport was worth it. I even bought magazines in anticipation of what was sure to be a great flight. Yes, I was going to read up on Charlie Sheen's crazy antics and the 'Teen Moms' while Will SLEPT.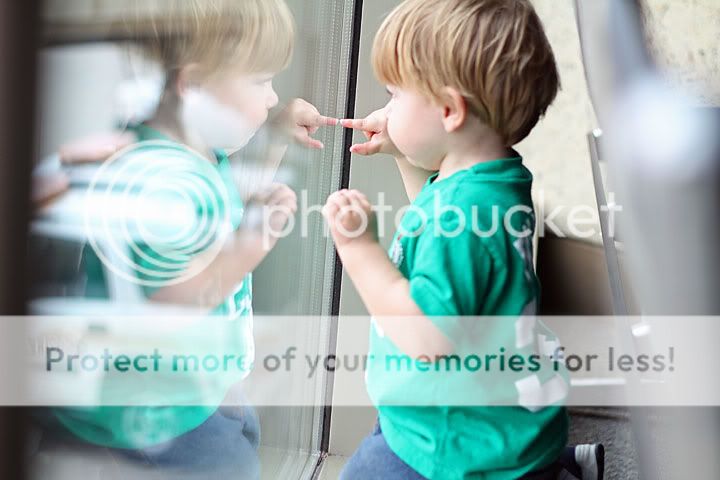 Yeah, it didn't quite work out that way. He spent most of his time kicking the seat in front of him (while I dodged the annoyed glances of an old lady who I'm sure is otherwise perfectly sweet and in love with children when their foot is not digging into her backside), and only slept for about 30 minutes on each leg of our journey.
By now you might be wondering why the hell we flew to Kansas. Well, we went to visit a
friend
. A friend who has a little boy my son's age. A friend that I exchange daily emails with. A friend that I regularly talk with on the phone. A friend (an army wife) who lives in Germany.
A friend that, even though I feel I know completely, I have never officially met.
So just how is it that these two moms, who live half a world apart, who are so alike they often wonder out loud if they are twins, were able to find each other?
It all begins with a positive pregnancy test and a book: What to Expect When You're Expecting. Did you know there's an entire online community on whattoexpect.com? The day I discovered I was pregnant (literally, the DAY), I went out and puchased a copy of this popular book, and decided to visit their website. From there, I joined an online community: 'Due in November 09'.
I was somewhat active in the beginning, not so much in the end. But in my first trimester, a post I wrote prompted a 'private message' from someone. We exchanged some messages back and forth and discovered we were both due within two days of eachother. 'Private messages' soon became emails to our personal addresses and friend requests on Facebook.
She was one of the first people I emailed with the announcement: "IT'S A BOY!!!!" We wrote often about crib bedding, baby gear, and feeling baby kicks. I emailed her in September to say, "I'm sick in the hospital and the baby might have to come early," followed by, "I had my baby and he's in the NICU," and then "Will's home!!!!!"
Kat and I have been on this journey together since the beginning. We brag on our baby's milestones and share in sleep-related, toddler -related frustrations.
Will - 17 months, Jackson - 16 months
Kat is home (in Kansas) for awhile and when she invited us out for a visit, there was no hesitation. Tickets purchased. Bags packed. Off we went.
splish splash
from
Carrie Harmsen
on
Vimeo
.
It was a good visit. Like a good, wear-comfy-yoga-pants-watch-trash-TV-eat-ice cream- and-talk kinda visit.
Will slept like shit because, well, that's what Will does. But we got out some during the day. And the boys? They REALLY seemed to enjoy eachother.
Running around Kansas City!
I was so focused on Jack's face being focused, I didn't even realize he was bringing me a ciggy until these pics were uploaded!
Will thinks Kansas is cool.
We spent three days together and I can't wait 'til our next visit. I wish Kat was my neighbor.
Photo credit is shared with Kat and the random nice girl at the park who took the last picture!