Mike was gone for most of last week and I was determined to keep Will busy because, you see, busy equals less time at home which equals less tantrums (and less of Mommy losing her mind).
Last Monday was gorgeous, so I took Will to a local (small) zoo that will soon close for the winter. We took our time, did everything (sometimes twice!), and enjoyed ourselves.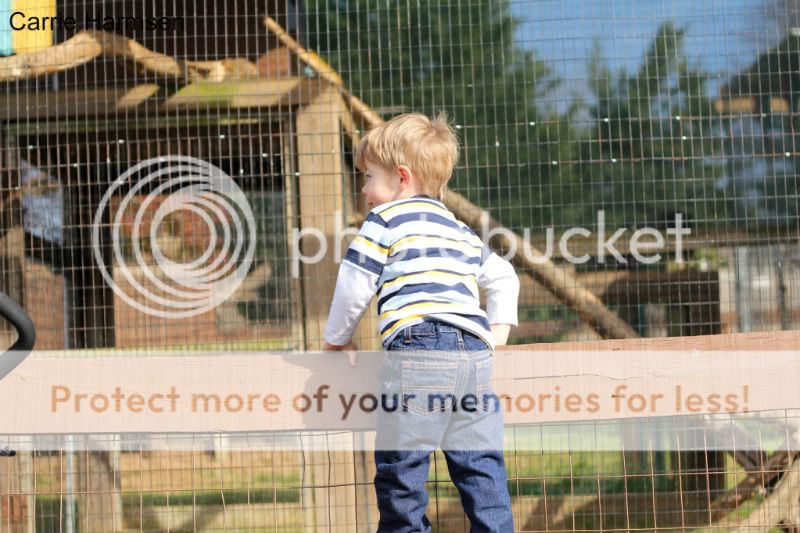 A little makin' out with the zebra statue never hurt anybody. Hey, I'm glad he was kissing as opposed to copying what we had just seen the giant tortoises doing. Just sayin'
Will was happily playing in the sand, completely oblivious to the giant horses behind him...
Until, that is, one of them made a loud sound.
But he actually went for a ride on one! This surprised me completely as he absolutely refused last month at the pumpkin patch.
Hi!
We bought a 'lamb bottle' only to discover there were no lambs in the petting barn. I asked the worker what we what should do with it and she suggested we feed the pigs. Uh, OK.
Will wanted no part of this. Smart boy.
On Tuesday Will went to his first movie! Since he has a great love for all things cat, we went to see "Puss in Boots." He LOVED it. He spent some time on my lap, some time in his own chair, some time standing up, some time eating popcorn. But never once did he want to leave. And, sure, he'd periodically holler "Piss" throughout the movie, but it was obvious what he was really trying to say. Right?
Watching the Christmas light show at the town center after the movie. I actually think this was his favorite part of the day. Dude loves himself some Xmas trees.
On Wednesday it was pouring rain and we spent the afternoon at the Children's Museum of Richmond. Will was a huge fan, though I don't think he spent more than 45 seconds in any one particular location (and that includes the art station). He was on the move for a full 3 hours.
*casually leaving out the part where I left my car lights on and the battery died and for a brief moment in time I panicked and thought we'd have to stay in Richmond FOREVER*
Mike came home late Thursday evening and we were very happy to have him back, especially Will who seems to be over his intense Mommy-phase (for now anyway). I had a fun week with Little Monkey!