Hello, happy girl.
Lately I'm all, 'Who is this baby?!?' She's suddenly not so diva-like and more content. I'm talking 10 solid minutes of tummy time with no screaming content. And she has the ca-utest little smile.
Me loves my Prevacid.
Mike thinks our baby looks like Kramer.
This week we're also saying hello to summer.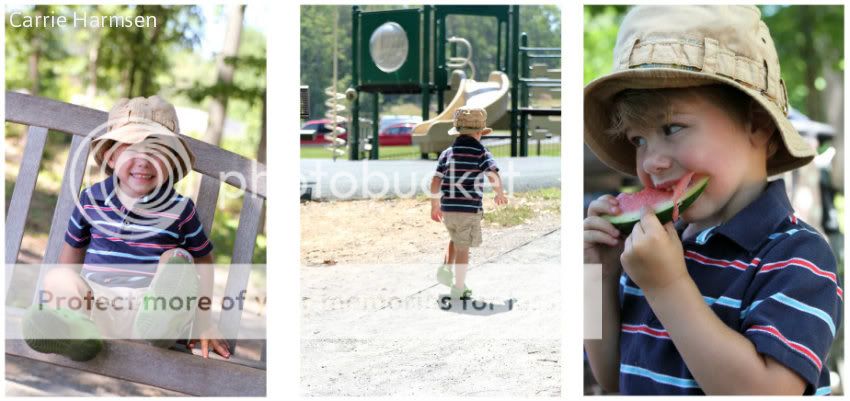 Yesterday we met our buddies at the park at the Marine Corps museum. I told Will we were going to a 'new park,' and he asked that it be a 'purple park.'
Our last visit to this park was in June 2010 (left, obviously) - back when I shot in auto and thought selective coloring was cool beans.
Since welcoming Amelia, Will has seemed like such a big boy to me. All of a sudden, he's doing the park stuff totally by himself.
But sometimes he'll look at me, or I'll see a picture like this, and I can still catch a glimpse of my sweet Baby Will...
Hello, cool Cars bandaid.
The three friends. Looking a little hot and worn out.
It was the perfect summer day - warm, but not humid. I was able to wear Amelia in the Ergo, which definitely makes outings a lot easier.
As we were leaving the park to return home, Will said he wanted to go to the museum. Clearly, he takes after his dad in this regard as you will never hear me suggest we visit a museum EVER. Since Amelia was still snoozing away, I thought, 'What the heck?'
We went to the museum.
Will saw some items of interest, but I'm pretty sure his favorite part was the ice cream treat.