We left for our vacation on July 8th feeling excited, but mostly nervous about how the week would go. We worried about long miserable car rides, but to our surprise, they were pretty perfect. We worried about kids that wouldn't sleep through the night, but they both did (every night - even the 8 week old!). We worried about having a fussy baby, but she was pretty happy.
I think the only thing we didn't worry about was rain. However...
After two perfect summers in the Outer Banks, it rained. The weather forecast for the week looked pretty bleak.
Will asked Mike if we could drive over the 'fancy bridge.'
By Wednesday morning it was sunny with a side of haze and humidity. In other words, the perfect morning for a trip to Duck Donuts - a MUST if you're ever in the area.
"No more pictures, Mommy." A phrase I heard plenty on this trip.
Luckily this little one doesn't seem to mind having her picture taken.
We managed to eat lunch out (at actual restaurants) on three different occasions. We may or may not have bribed Will with new toys in exchange for good behavior.
Of course ice cream on any outing is a must.
Seriously, Will eats, like, one bite before he's all done. I'm starting to question his maternity.
By far, Will's favorite adventure was this one--
Race cars!
And I'm pretty sure he really thought he was driving.
The boy loves fast cars, so his paternity is definitely not in question.
A quick trip to Jeanette's Pier.
We were lucky enough to have fun friends to vacation with.
Will and Calder share a laugh
.
Tessa was pretty excited to take a picture holding Amelia...
Until Amelia screamed her head off.
We spent plenty of time in the beach house pool. On a couple of occasions, Will actually swam by himself while Mike and I looked on from the deck chairs. Such a big boy.
And this was pretty much the only picture he let me take of him swimming.
A certain baby girl had her first swim in the pool.
But the main attraction was, of course, the beach.
Mike and Will went alone, for the most part, since it was too hot for Amelia, but she and I managed to join them a few times.
2010: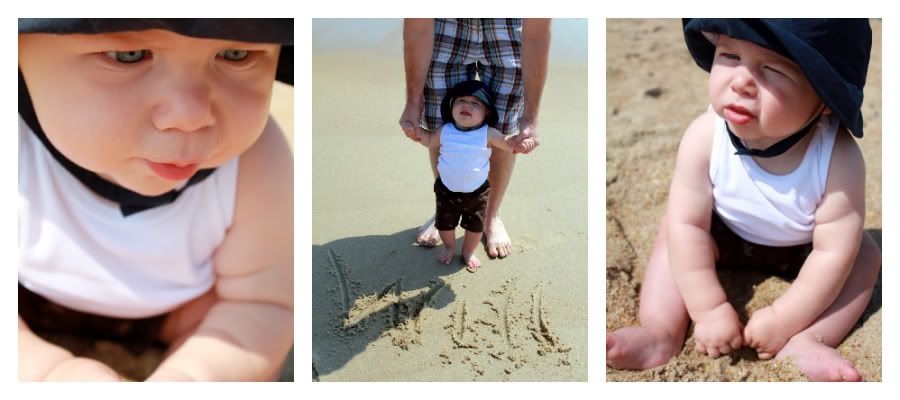 2011:
2012:
My, how he's grown.
White boys can totally jump
.
Amelia's turn:
Will loved his new sun hat.
He also loved getting buried in the sand.
Amelia did not love her new sun hat.
We realized that the best time for all of us to go to the beach was later in the day. So we packed a dinner picnic, loaded up babies and beach gear, and spent our evenings there. It absolutely made my vacation.
A puffer fish.
A puffer Will.
A two month old girl happy to be at the beach.
And a whole lotta pictures...
It's always a let down coming home from our vacation to the OBX. Each year with Will just gets better and better.
Having a new little one just sweetens the deal. I hope she loves the beach as much as her brother does.
Until next year...