It's true. We do live in a zoo. During the evening hours it seems we can't get these little animals fed and in bed fast enough.
But they're so cute, I can't stand it.
Yes, Amelia was crying her eyes out while this picture was taken.
Amelia's newest trick is the feet grab. I'm slightly surprised that it's happening already since it
caused Will some trouble
. She reaches for them every time she's on her back. But I don't suspect she'll be rolling any time soon since tummy time is still such a disaster.
She's also taken to growling. Little Animal.
Mike's birthday weekend kicked off on Saturday. Amelia took a nice nap after an exhausting trip to a consignment sale with me. It always feels a bit like a vacation when there's only one child to tend to while the other is sleeping. I loved that Will got some undivided time with both his parents.
Fabulous weather on Saturday evening begged for ice cream cones on the deck. Or, maybe it was just a bribe to get him off the bike at Sports Authority.
Sunday was Mike's birthday.
Will is totally in to birthdays now and he enjoyed doing all the prep work with me. For instance, he insisted we buy these hats.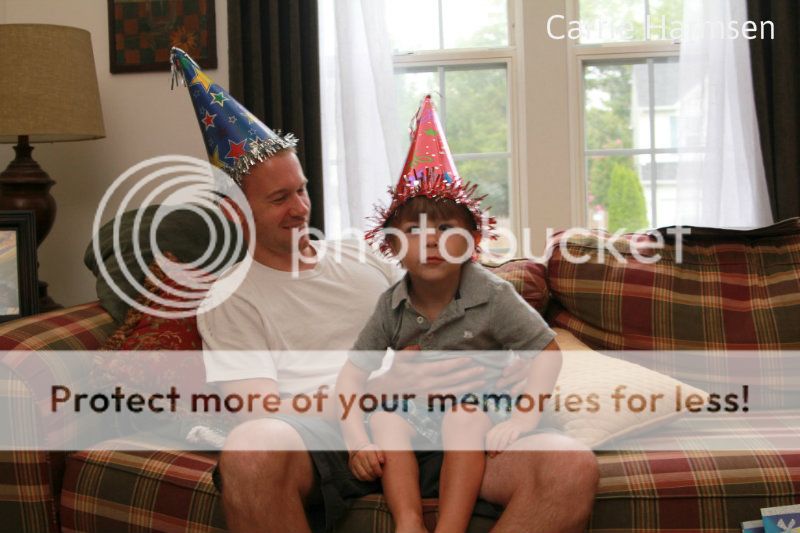 And he picked Yo Gabba Gabba as the party theme. He was very excited to play his first cheesy party game.
Grandma and Amelia took their turn together.
As part of Mike's birthday gift from Will, I did this fill-in-the-blank activity with him earlier in the week.
Stealing my
favorite blogger's
idea, I took Will to the dollar store to choose his own gift for Mike. He selected a set of 4 mini basketballs, a pink car clip for sunglasses, and this card--
Because "Daddy like butterflies."
This cutie was so interested in being part of the festivities, she refused a nap all day.
At last it was time for birthday cake. Grandma made Will his own so he could have candles to blow out.
Grandma is making Will wait til our song is done to blow out the candles.
Meanwhile, Mike requested a 'custom ice cream cake' from me. I was confused for a time, until he explained that he just wanted some Ben and Jerry's in a pre-made Oreo pie crust with Cool Whip on top.
Sleepy baby wanted no part of this.
Will ate, like, none of this. Seriously, where did this child come from??!?
Happy 32nd year to my wonderful Mikey. May it contain health, happiness, and good beer.