Things have been a little interesting around here. For starters, Will is three. Three. This is a tough age. Very vocal, very oppositional. He needs to do everything 'by myself,' which means I must stand around for five minutes while he attempts to button his jeans until he cries because it's 'too hard!!'
Second, my amazing baby girl sleeper is now my I-will-wake-up-every-10-minutes-because-I-am-on-my-tummy-and-I-don't-want-to-be sleeper.
Fun times. As I was typing 'fun,' my finger slipped and I typed 'Gun times.' Hmmmm....
But enough of that, because there's good stuff happening, too.
Over the weekend, we made our annual visit to the pumpkin patch. Will is so excited about all things Halloween. First, he wanted to be a pirate, then for a brief time it changed to robot. Now, he's quite sure he wants to be a fireman. And this time, there's no changing his mind because the tag has been removed from his new rubber fireman boots.
He gets VERY excited about Halloween decorations and was really looking forward to our trip to the pumpkin patch.
2010
2011
2012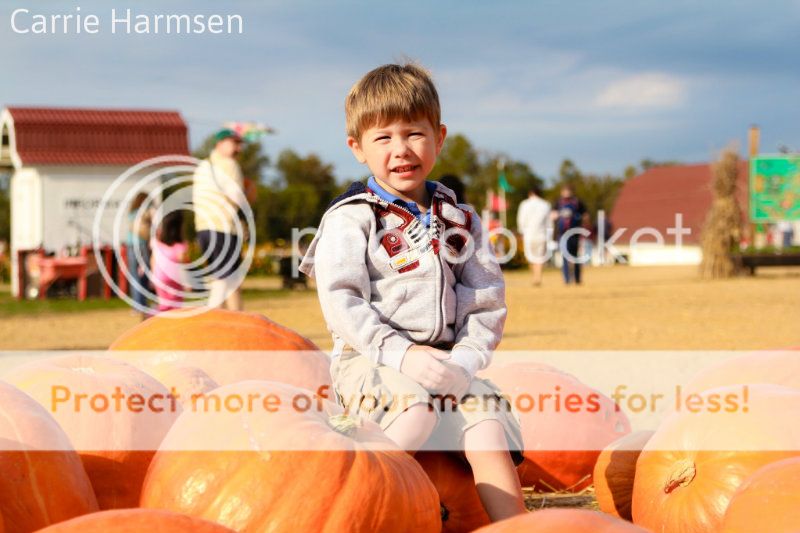 Will is at a perfect age for outings like these. He loved everything.
I think Miss Amelia liked the pumpkin patch too. Or, she enjoyed watching Will enjoy the pumpkin patch.
I know, the socks don't match. But, look -- she has a pumpkin on her butt. Awwwww.
For the first time, Grandma joined us.
Look -- riding the horse all by himself!!
This year we went in the late afternoon/evening and the sun went down very quickly. Different, but definitely a cool experience picking out your pumpkin in a lit up patch. Until you don't get home until 9 at night and your kids are FREAKING out because they're so tired. Yeah...
My mother thinks anything below 75 degrees is freezing. Can you tell?
While Will was making his father ride the tunnel slides again and again and again (and again), Amelia was helping Grandma and me cut a bouquet of wild flowers. And by helping, I mean, she slept the whole time. Yay!
Will riding the big kid zip lines. Of course, you're supposed to get a running start down the ramp, but it's kind of hard when your legs are so short. Cracked me up.
The grand finale: a tractor ride out to pick our pumpkins.
So excited!
She is the happiest baby, like, ever.
The only picture from the patch. Sadly, Amelia gave a big 'hell no' to the Ergo, so my hands were tied.
Mike passed on the 36 pound pumpkins this year and, instead, picked two little ones.