So, Thanksgiving...
We had a nice day.
Will in 2009. Just a teeny tiny 2 month old.
Amelia in 2012. A not so teeny tiny 6 month old squeezed into the same outfit.
Poor thing. That outfit looked like a short sleeves/shorts romper. Don't worry, she didn't wear it for long.
Yeah, my mom and I were wearing the same sweater. No, it wasn't planned.
Having some pre-dinner playtime. He rides this thing like a pro now (minus the steroids).
Feeling the sudden urge to play 'Birds' (Angry Birds, duh) at the park.
All that playing worked up quite an appetite. Turkey!!
So thankful...
As is tradition, we immediately begin decking our halls the day after Thanksgiving.
Me thinks we will soon have a crawler.
Hoping (really hoping!) that she decides to wait until the tree is down.
"Hey, Will, come sit next to your sister for a picture!" Or not.
This is where she starts to tire of his incessant attention.
Love these two monkeys.
"Mommy, take a picture of just me!"
While browsing a gift shop in Disney, Will saw a Mickey Mouse train. He asked if we could buy it and, while he accepted that we couldn't at the time with little argument, he has talked about it nonstop. It is the only thing he said he was going to ask Santa for. When he saw the $10 my grandmother sent for my birthday, he told me we should use it to buy a Mickey Mouse train.
When I saw a brand new Mickey Mouse train on ebay, I couldn't help but bid on it. Until I won it. And since I knew it would look perfect under the tree, Will got an early Christmas present.
He was pretty excited to get an early present from Santa.
Oh, was he excited! He kind of drove Daddy a little crazy when he was setting it all up.
Amelia was unimpressed.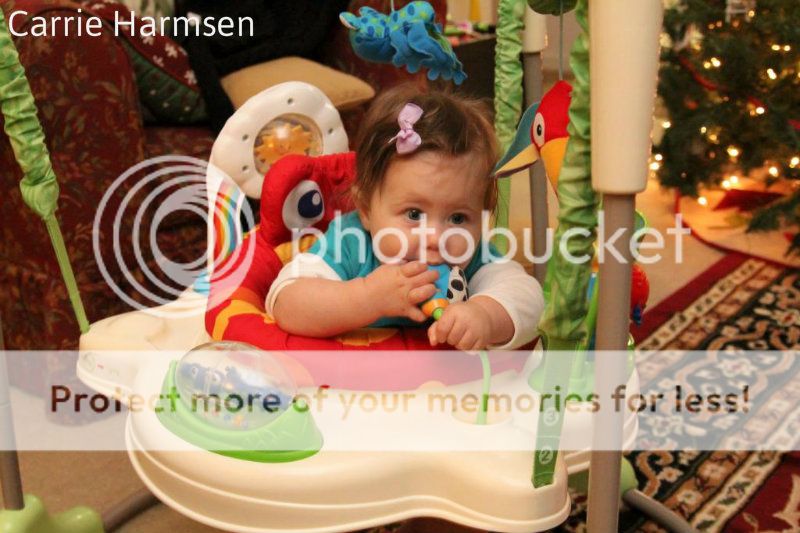 Mike doesn't think the train will be sticking around until Christmas. But I sure hope it does. How cute?!?