RSV, ear infections, sinus infections (for Mike and myself). We have been ravaged. Somehow, in the middle of it all, we managed to have a merry Christmas.
Will slept in quite late on both Christmas Eve and Christmas mornings. It felt a little weird and unnatural, but we let him be since he was feeling so lousy.
A hot chocolate smile on Christmas Eve.
Since everyone seemed to be in good spirits, we ventured out of the house for a Christmas Eve outing to Grandma's. Besides the doctor's office, it's pretty much the only place we've been in the last two weeks.
I love this picture so much. I'm basically obsessed.
However, things went downhill from there. Will was majorly grumpy. He gets a pass because double ear infections and probable strep (throat was red, but the doc didn't bother swabbing him since he'd be on meds regardless) are not very pleasant, to say the least. But, still. His poor mood bummed me out.
By 4:00, he was practically begging us to let him take a nap. I was hesitant since it was already so late in the afternoon, but we let him rest for about an hour. This would prove to be a terrible decision that resulted in him being awake until 11 pm. Oy.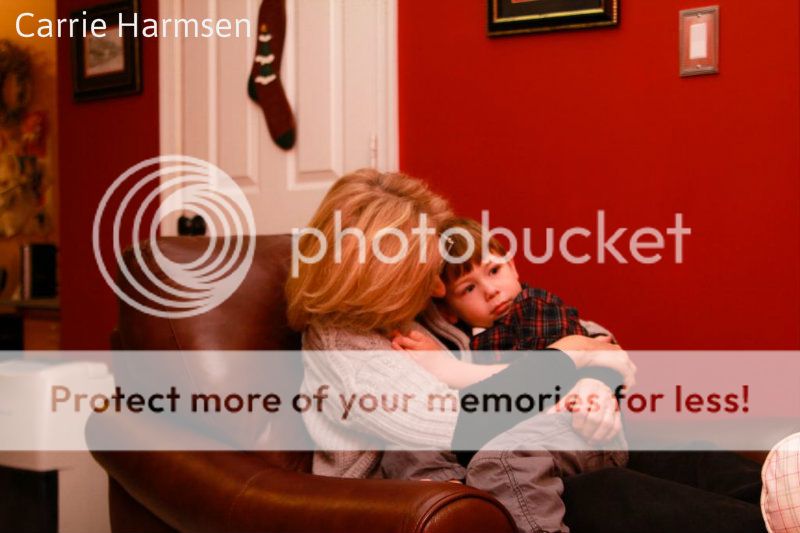 A first Christmas in the Harmsen household isn't complete without the obligatory sad Santa pic. Or, very-sleepy-in-need-of-her-bed Santa, as the case may be.
Forgot the carrots, so the reindeer had to eat lettuce. Oops.
So after all the build-up and anticipation, we had some drama on Christmas Eve as Will was being tucked in. Not just because he'd stay awake for an extra two hours fighting sleep. But because he was terrified of Santa coming to our house. In fact, I had to tell him several times that I'd tell Santa to skip us.
Santa came anyway. Although, between Disney World and a new house, Santa was on a budget this year. Sorry, Kids!
Will slept until about 10 AM on Christmas morning. In fact, that's when Amelia woke up from her morning nap, so they both got to come down stairs together.
Will was definitely feeling better on Christmas. Thank goodness. And he seemed to forget all about his Santa fears from the previous night.
Will picked out these toy balls for Amelia and Mike helped him wrap them. He was so excited to give them to her. And she loved them.
Will opening one of his favorite gifts from Grandma. He loves playing with this race track.
Amelia opening up one of
my
favorite gifts: her American Girl Bitty Baby from Grandma.
Actually, I'm quite sure Amelia loves her doll, too.
Presents, cute (and happy!) kids in Christmas jammies, A Christmas Story on repeat, a delicious prime rib, family...
Amelia gives the most lovely hugs lately.
Christmas was a success!