Last weekend, Amelia and I had a weekend away in Massachusetts. We left early Saturday morning and came home late Monday night. I knew I couldn't tell Will where I was going since he'd be heartbroken that he wasn't coming along. I told him Amelia and I were going to a girls' party. Whatever that is. "Will there be balloons?" he asked. Maybe. "Will there be cake?" Oh, most definitely. There's always cake.
Amelia was re-acquainted with family. Posing with little Brendan...
And since she's just one short month away from her first birthday, she got to open some presents. She was thrilled about the headband.
Amelia loves toys.
Of course, nothing beats the packaging.
It was a bit of a bummer to leave our summer-like weather for the cold. Still, no visit is complete without ice cream from Kimball Farms.
Amelia is starting to get really good at this walking thing.
Since Monday was Patriots Day, there was a special event at Gillette Stadium. I was really hoping Tom Brady would be there so we could finally have our long-awaited moment, but sadly, he was a no-show.
The plan was to have our picture taken on the field, but first, we had a little lunch.
Aunt Becky was the only person allowed to hold Amelia, a rule created by Amelia.
We did a little shopping.
Then it was time to have our picture taken on the field. After just an hour and a half of waiting.
The little ones had fun wandering the place while we waited.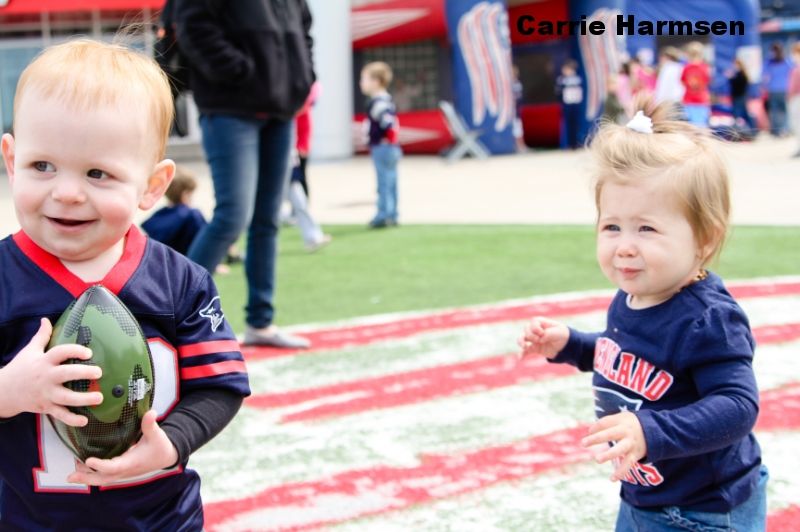 We skipped out on the extra hour of waiting to see Pat the Patriot and finally made our way on to the field.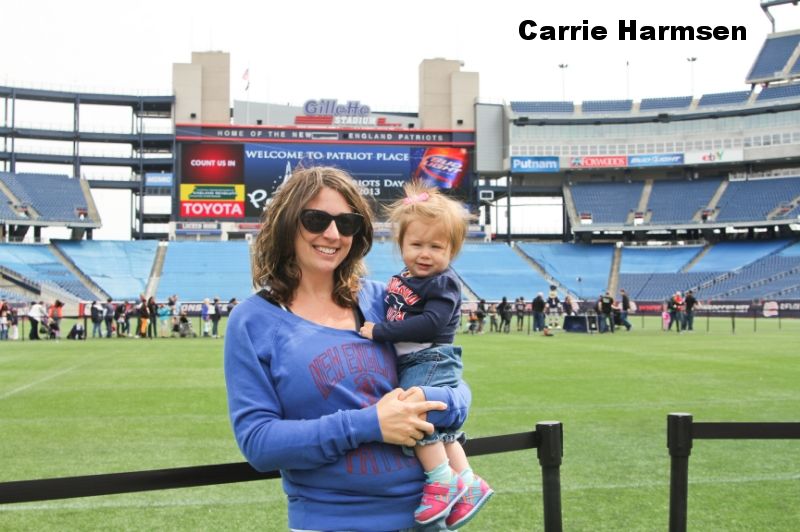 We had such a beautiful day, later marred by the tragedy that occurred right down the road which we learned about upon returning to the car. The marathon was a huge event, some of which we watched on the news before heading to Foxboro. In fact, we drove through the town where the race began. Signs on the highway directed traffic and Becky pointed out all the tour buses bringing spectators from the starting line to the finish line.
Being so close to everything taking place made me even more appreciative for time spent with family.
As for the hour long flight? Amelia rocked it out.
We're already missing everyone and can't wait to have another visit. Next time we'll bring big brother Will, who was a little upset that his boys' party with Daddy didn't have balloons.